Things I also Wished I Knew at the Start of Playing PoE
First read this. I got the inspiration to write this from that. I don't claim to be an expert but I played 250 hours and I think I have some useful tips. Here I try to give beginners and broader understanding of PoE rather than specific items. If you need to poe currency purchase in game, you can choose u4gm.com sale cheap poe currency.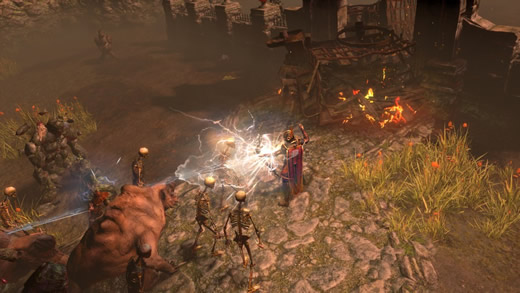 Path of Exile is complicated and many things aren't explained by players or the game itself. For example:
Shortcuts: You can ctrl-click items to quickly move them between windows.
You can quickly use stacks of orbs by right-clicking to pick them up and then holding shift and left clicking to apply them.
You can hit spacebar to skip NPC dialogue. You can also scroll up and down on their text box.
You can rotate decoration in your hideout 90 degrees by hiting ctrl+r.
Most of the time this is because it's hard to view things from the perspective of a beginner. There are a lot of assumptions made when players talk about the best gear, skills, and passives. Generally speaking, you should look them on the Wikipedia and figure out how the pieces attach to each other.
Imo, it's more important to have a good guide that explains the game to beginners than the build itself. You are trying to step into the world of PoE and you really need a good guide to explain everything to do. Most of the time, guides don't include this because they are geared to experienced players who know what they are doing. This is a good example. You should look for:
Explaining how the build works: how damage is dealt (mechanics) and how damage is mitigated (which keystones to get)
Explaining how to level your character: what are some nice leveling gear, what are the most important links in your gem setup
Explaining the pros and con of the build and how it compares to other builds.
Explaining what is a high priority vs what nice to have: gear, flasks, rings, and etc. Some builds are literally built around certain items while others are more flexible.
Reading the comments on the forum is a great way to understand the build more. This is where people flesh out the options for builds and try to understand it more. But it's better if the author writes them down in the first post so you don't have to read so much.
At the core of the game is a balance and trade-offs you make as a player. The game is complicated because there are a lot of systems interacting with each other and you are always trying to balance them all. Over time you learn what you want. For example:
Uniques aren't always the best gear for your build. Sometimes the best thing you can get is a well-rolled item. Uniques are useful when they bring unique mechanics and allow you to level faster (Goldrim, Wanderlust, and Tabula Rasa).
What flasks you want to run: offensive vs defensive.
What passives you want. There are always useful nodes you can get but you have a finite number of points so you need to plan ahead for them.